Just installed my new stuff - here's some pics:
The "P" Springs: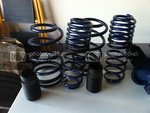 18000-C Shocks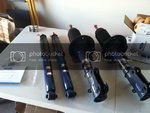 MM Caster/Camber Plates and FR Jounce Kit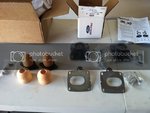 And installed! Better pics coming, these were just quick shots: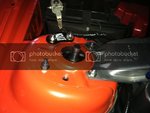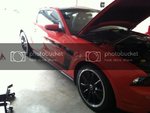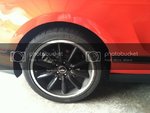 Install wasn't too bad, and I had an alignment done after I finished. -2.5 camber is where I set things for now.
Haven't been able to really push things just yet, but I have to say, what's been said before was true - the ride isn't harsher per se, but you do feel everything much better, and everything is more sharp, precise and planted. You can really feel what the rear end is doing much better. And the turn-in is exactly what I was after. Body roll and brake dive are greatly reduced, and the car feels so much more balanced and planted coming through the turns.
It didn't drop the car much. From an eyeball standpoint, front looks unchanged. The rear drop is there though. I am really pleased, I didn't want to slam the car. This is what I was hoping to get out of it, drop-wise.
You'll notice I didn't get sways, and adjustable panhard bar, and rear LCA's and brackets like everyone else is doing. In the spec I am building to, those mods would knock me right out of my class, and so I decided to see if this was doable without them. So far, I've found no added wheel hop or problems putting down the power on corner exit - it's quite a bit improved, really. If I end up running square with my r-comps, I'll soften the rear shocks and keep the rear tire pressures 2-3 psi lower and see what I get. I'm holding some points in reserve that I'd like to spend on other things in the build, but that I can spend on sways or panhard bars if it ends up that I must.
Anyway, my next event is at Autobahn, where I have detailed lap times for the stock system. We'll see if this improves things. But already I have a great deal of confidence it will.