Today was part two-of-two of my no-tune bolt on Boss mods. I installed a Airaid carbon fiber CAI a little while back and had good results. As many of you know, it was for a tech feature for 5.0 Mustangs so I can't quite reveal those results yet, but as I had stated before, they were impressive.
I am dead set against getting a tune so I can keep my warranty. So the next logical step was a no-tune TB. Enter the Accufab 84.5mm unit. It is sold as a no-tune required bolt on TB. It's only competitors are the BBK 85 and 90mm units. I chose the Accufab based on the superior build quality and excellent reputation. Accufab are suppliers of Ford Racing's throttle bodies.
From what I had researched, there was little to be expected in terms of peak power gains with the 84.5mm unit. However, there were reports of mid-range gains and improved throttle response. I figured this would be a worthwhile mod if those were the results.
I woke up early and headed down to GTR High Performance in Rancho Cucamonga. An excellent shop for anyone in the area looking for a place to go. Great customer service.
We strapped the car down and prepped it for a pull with the stock TB, one run with silver key and one with the red key. My mods are the Airaid CAI and a pair of Flowmaster super 10 mufflers. That's it.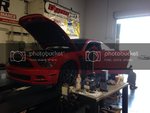 Started making pulls with the stock TB
http://youtu.be/i36Jk_B-HWg
Surprisingly, the car made even more power than it did last time when we did back to back runs with the Airaid vs stock air box. It was up by around 10 rwhp with no other changes. Same dyno. Only thing I can figure is that the ECU must have adapted to the CAI and the tune changed enough to make more power. Either way, it was a welcome change.
After getting baselines with silver and red keys, the TB swap commenced. It's a super easy procedure....
Remove the CAI to TB coupler, remove 4 TB bolts and un-clip the harness from TB motor. It will literally fall off into your hand.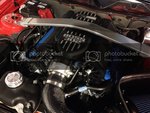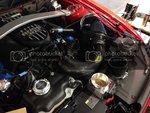 Stock TB and stock spacer. You will not need a spacer with the Accufab TB.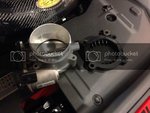 Your going to have this little plastic nub sticking out, which will prevent the larger housing of the Accufab TB from fully seating against the intake. It's in between the upper and lower TB bolt holes on left side.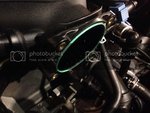 Grab a loose sawzall blade and carefully saw away at the nub. It comes off easily.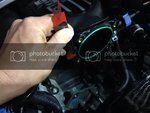 After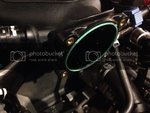 Stock vs Accufab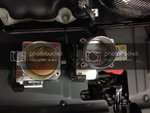 Simply bolt on the Accufab TB. It comes with new bolts. I snugged them down but be cautious not to use too much torque or you risk pulling out the brass inserts from the manifold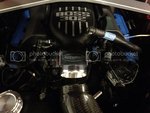 You'll need a new silicone coupler. The O.D. of the Accufab TB is 4". Since my Airaid is also 4", I went on eBay and ordered a 4" to 4" straight silicone coupler. Works perfect.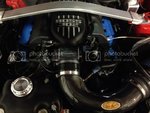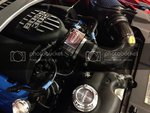 While I really can't reveal actual dyno numbers yet because of the pending tech feature, here's a shot of the power curves after the Accufab TB. First silver key. It picked up quite a bit mid-to-upper range. Both hp and torque. AFR stayed virtually the same. I will tell you that peak power was up 9 rwhp and 9 rwtq. I was surprised it gained that much. It gained nearly 20 rwhp and nearly 15 rwtq at around 6000-6500 rpm. That's a good increase all around. Green is Accufab, blue is stock TB.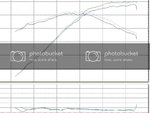 Next up was red key. For some reason the separation in the graph wasn't as significant between stock and Accufab TB. However, peak power was overall higher than the highest silver key run by another 9 rwhp and 4 rwtq. And it gained 6 rwhp and 4 rwtq over red key with stock TB. It still made more power and torque everywhere. AFR was still perfect. Red key is red line, stock TB is blue.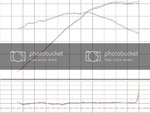 Made a nice little pull after leaving the dyno. This car rips! I HIGHLY recommend doing this mod. This and the CAI have made this car a whole different beast. All with zero tuning and retaining my factory warranty.
Throttle response is definitely improved. However, it wasn't the night and day, shocking difference some have reported. But it is certainly noticeable.
There you have it. Real world, back to back testing of a no tune TB. In my opinion, the Accufab 84.5 is absolutely worth the price. I'll let each of you decide for yourselves based on the results...