Here's the info from this company. I ordered other indoor grow kits from them. Some indoor grow kits like oysters and garden gian can be used to annoculate an outside bed once spent.

Shiitake mushrooms are the rising star of culinary mushrooms. For the last 20 years, the global production of shiitakes has soared, especially in China and the United States. Now there are an increasing number of small scale shiitake growers throughout the United States, making this delicious...

This is the company that I ordered from.

Fungi Perfecti® is a family-owned, environmentally friendly company specializing in using mushrooms to improve the health of the planet and its people. Founded by mycologist and author Paul Stamets in 1980, we are leaders in a new wave of technologies harnessing the inherent power of mushrooms...

fungi.com

The process is time consuming for logs. Mine are oak and about 3 years old. If you really want to grow some mushrooms make a "garden giant"/ wine cap /

Stropharia rugosoannulata

bed.

Our premium Wine Cap mushroom sawdust spawn is optimized for outdoor growing. 100% of our spawn is handmade and crafted by expert mycologists in our Maine facility. All North Spore products are guaranteed. Bulk discounts available for medium, large-scale, and commercial growers. Our...

northspore.com
Garden giant bed a flush from a few years ago. I let the bed deplete of food - straw and sawdust but had 5-6 good flushes over a few years. Looking through the photos the shitake logs were done the same time as the wine caps so still producing over 3 years. There were fresh cut logs that I grabbed from a tree service that was so ng a tree just down the road - fresh is best for logs - does not allow for invasive fungi and more nutrients.
June 2019
September 2019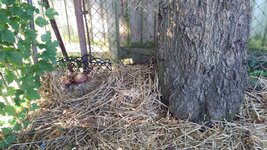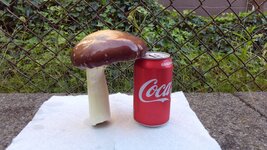 October 2019