Worked on the install of both front and rear tow hook installs from Blowfish Racing.
Pretty simple with good instructions and great fit.

First the front
1) Jack up the front and place on stands. (or lift if you are lucky)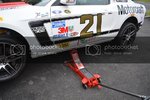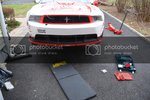 2) Remove front bumper cover per directions, I have the WC splitter so remove the adjusting struts by unscrewing the the bottom post and unthread the turnbuckles from the top post. Then remove the underhood radiator cover(pushpins) and 2 8mm bolts at the grille top. 4 screws at the undertray at the rear of the splitter/bumpercover, 2 screw each side in the wheel wells, unclip from fender edge on both sides and pull forward about 4 inches and unplug temp sender and side markers.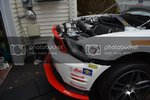 3) Disconnect brakes hoses and set the nose aside on a blanket out of the way.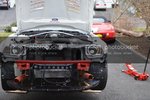 4) Next remove existing splitter bracket, simply remove 4 nuts from back of bumper bracket bolts and push back off suds and down and out. Install Blowfish bracket onto studs and tighten nuts back on to 26 ft/lbs. If you don't already have a WC/LS splitter you will have to change the existing bumper bar bolts to the longer ones provided in the kit.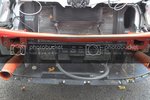 5) Next bolt tow hook arm to the bracket with the 4 3/8" (9/16" socket) bolts and nuts. I used the most forward set of holes to mount, keeps the pivot point even with the edge of the lower grille opening. If you use to winch onto a trailer the hook shouldn't contact the bumper cover.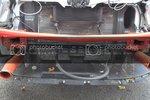 6) Reinstall bumper cover, screw top spliiter brace posts back in and install turnbuckle rods. Installed the nylon washers provided between the hook arm and hook ring. Keeps the motion stiff and quiet when you fold it.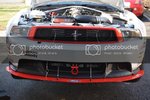 Lower the car and install this;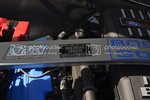 For the rear I don't have many pics but the instructions take you through it pretty well. There is a lot of fitting of the bumper cover on and off to line up the slot and grommet cut behind the license plate. The bracket is simple to bolt up and is really a cool simple design, trimmed the bumper foam with a router so it was neat and easy, basically 4 vertical slots to clear the botls and ears at the bottom of the bracket. I am all done with the fitting and cutting but still have the cover off bto paint the lower section white as well as the rockers.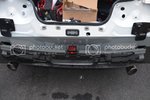 The Roush side splitters and Carbon rear splitters are getting the red treatment. Pics of this to follow.