I'm pleased to report that these new FRPP Lower Control Arm Relocation Brackets (Part# M-5650-A) are 100% compatible with my previous suspension upgrades, including Steeda swaybar relocation brackets that allow my Weld RT-S 15"x10" wheels with M/T 295/55-15 Drag Radials to fit, Steeda Adjustable Swaybar, Steeda Adjustable UCA, BBR Billet LCAs, J&M Adjustable Panhard Bar.
Even though my Boss does not have lowering springs, the angle of LCAs allowed the car to squat too much during hard launches at the drag strip. These new brackets correct that and should result in improved 60ft times. I'll get to test them out next weekend at a local Mustangs vs. Camaros drag event. ;D
before photo - showing LCA is slightly higher on the axle end, which isn't good.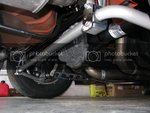 after the install..