I'm starting this thread as another thread i had about springs went way off track. this thread is solely to post my experience with these springs. Not to sway anybody to them over other springs etc. So I appreciate nobody hijacking this thread going off on a tangent. Questioning why I'm doing it etc. The "proven" path is the 5300P springs and they work with stock struts which has been confirmed.
With that out of the way.
My setup, I'm running 18" wheels with A6 295/30's all the way around. The 30 profile tires with 18" wheels I think dropped the car stock an inch or more but I didn't measure. Keep that in mind when looking at the measurements below.
I called H&R and the advertised drop was 1.5 front and 1.4 rear. However, I was told that was the drop when used on a GT. It shouldn't be that much on the Boss.
Spring rates
Stock
137lbs Front
191lbs rear
H&R Race
'
325 Front
285 rear
Tonight I installed the back springs and the drop on my LS appears to be 1.5". I wasn't going after that much of a drop.
Here is a link to a photo bucket alblum with changes I'm making. I have pix of the measurements before lowering. Also, there is one pix of the driver rear side with the new springs.
http://photobucket.com/LSAutoxSetup
Update: Tonight I got the front springs in.
I recording all my settings in a spread sheet. Here's an image of it.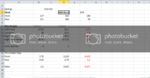 It was late when I was finished, but here's a side shot in the garage.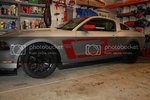 Here's a pix of the front splitter clearance.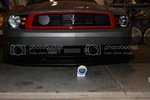 Update - More Pix
I have several in available here.
http://www.photobucket.com/LSHRSprings
Left Front Angle Ride Height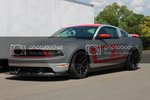 Left Saide Ride Height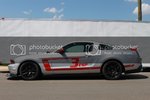 Front Showing Camber (Again on an angle finder, a little past 3)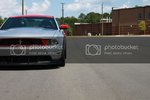 Transmission Cooler Front (Taken off now)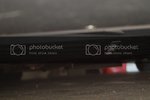 Trans Cooler Side Shot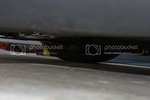 Ramps need to load on the trailer now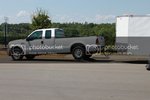 Splitter Clearance (With rear Truck tires on ramps)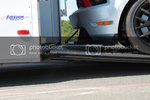 Body Clearance Trailer