I took a pilgrimage trip up to the Detroit Michigan area last week, and met with Mark Wilson of FRPP. I want to thank Mark for taking the time out of his day for meeting with me, and wanted to thank Chuck Watson for giving my son and me a tour of their new Watson Engineering facility and for Mark for showing us the rest! In case you don't know, Watson Engineering makes all the Ford Racing performance cars that Ford sells. Both Mark and Chuck are truly the most friendly and nicest people, and are honest car guys, that IMO, are willing to bend over backwards to help you.
Now to answer some questions I have seen on the forum and some factoids:
1. Despite what you read, you can jack your car up from the differential and K-member. It was designed to do so.
2. The BBS 18x10" wheels the FRPP sells can be used with the 1/2" stud as long as you use the correct lug nut. No issues...none.
3. Ford races the same exact parts that they sell at FRPP.
4. The new 15" brakes are not the stock GT500 brakes. They are true Brembo Racing Calipers and rotors.
5. The transmission used in the 302S was chosen because it was previously run in the FR500S (not to make you want one). This enabled teams to use the same type of transmission they were currently using keeping costs down.
6. Using a different brand motor oil will not void you engine warranty.
The new Watson Engineering facility was amazing. Some pics from the visit (See anything you like):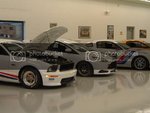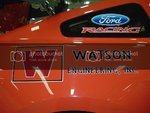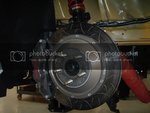 This is the 15" setup that everyone has been talking about.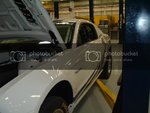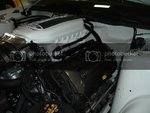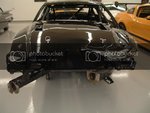 This was the famous Cobra Jet that did the wheel stand. It has molted it's body and got a new one. This is what is left over.