Posted this in the "What did you do to your Boss today" thread, but figured it would be worthwhile to post here as well...
Did a dyno test/ tech feature for 5.0 Mustang magazine today. KJ Jones, senior tech editor for 5.0, was at GTR high performance today testing the Airaid carbon fiber no-tune CAI. He used my Boss as it is stock engine-wise with a stock CAI. I really wish I could share the results, they are definitely exciting. The feature will be in an upcoming issue of 5.0 Mustangs and Super Fords. Most likely May-June. It will be a great article with both silver and red key testing. We haven't had any definitive real-world Boss no-tune CAI tests published and this one will reveal the truth once and for all!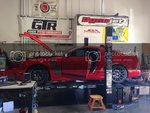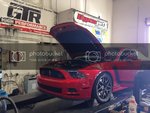 AWESOME looking Parnelli Jones edition carbon fiber CAI with coil-cover-matching blue filter...