#LS-378 - So many Porsche's, so little time....
Moderator
Here's some pics for the nomex radiator protector I just installed. I can't take credit for the idea nor the sourcing of the Nomex, but safe to say if he wishes to he can step forward. The nomex honeycomb was purchased from Speedway Motors in Lincoln, NE (
http://www.speedwaymotors.com
, (800) 979-0211). Cost of the nomex is $19.99 per sheet (you only need one) and the install time is about 10 minutes. This is by far the best bang for the buck mod I've done so far. The lower section of the A/C condenser coils were already starting to get bent in from rocks, bugs and tire marbles. This should protect it 100% without impacting air flow.
Part: Nomex Honey Comb 19x26
Part #: 917-34215
Install Instrucitons:
1) Remove shroud over radiator
2) Remove hood latch assembly
3) Cut nomex sheet with razor blade to 24" wide. Sheets come 19" high (which is what we want) by 26" wide.
4) Lowering the nomex from the top, place nomex 24" bottom edge inside "U" channel gulley that is in front of radiator. This will secure the bottom of the nomex in place.
5) To the left and right of the radiator you will see rubber seals that butt up against the radiator, they are very flexible. Work each side so the rubber seal ends up
in front
of the nomex. This will hold the sides of the nomex in place.
6) Replace hood latch assembly
7) Replace shroud over radiator
Top View
You can see the right side rubber side seals here easily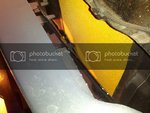 Bottom view