I replaced the rear rubber lines with new raybesto BH381284 from rock auto. I noticed today they have a slow leak. After install I bled the brakes, cleaned everything, and bedded in new pads.
Any advice to remedy? Try tightening harder? Some pipe dope or thread tape?
passenger side seems to be seeping from threads one drop hangin onto the bottom of the metal line that loops over to driver side. Input from front is dry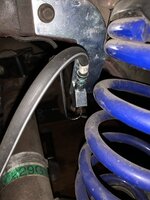 Driver side same thing - looks to be seeping from thread drip coming down from metal line.