So a buddy of mine has some Shelby Wheels for sale, they are in great condition, and I am wanting to use them on my Mach1 Project (which is still some time off, have to pay off the BOSS first). But I mocked them up on my BOSS and they don't look to bad actually...
Thoughts?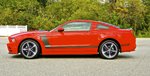 As far as the MACH1 Project I am referring to doing...
The plan is to get a 2013 or 2014 GT, and then start modding..
Shaker Scoop (functional),
MRT Rear Window Shades (like I have on my BOSS)
MGW Shifter
ROUSH RS3 Front Grill and Fog Light Kit
Styling Breaker Bar for the Headlights
Matte Black Pedestal Spoiler
MACH 1 Badging and Stripe Kit (69-70 version)
Quarter Window Covers with Real 69-70 Quarter Window Emblems.
(Would like to do a Real MACH1 Rocker Panel Molding kit, but I seriously doubt it will match on the current cars without some serious modification. Plus they are extremely hard to find and quite expensive when you do. So I might just make a realistic Decal for the Rocker Panel.
Full Exhaust (The loudest I can "almost legally make it". Kooks Headers, H-pipe, side dumps, Borla ATAK axel backs, JEGS CAT Deletes
Custom Tune (Mainly do to the shaker and exhaust)
If it all works out the way I would like it will look similar to this when done.
Black Version/Red Stripes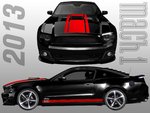 Red Version/Black Stripes