Chris
Staff member
Moderator
1,644
1,931
Exp. Type

HPDE
Exp. Level

5-10 Years
Once again their choice of names is a bit strange, but is anyone else excited about the idea of compact trucks making a comeback? Of course, the industry's idea of "compact" these days isn't what it used to be, hell, the midsize trucks out there today look like full size trucks of the past. Regardless, seeing Ford put out a small pickup truck is cool. I hope it does well.
Update:
Looks like the base Ford Maverick will be a FWD 4-cylinder hybrid built on the Bronco Sport unibody that will get 40 MPG city and go 500 miles on a single tank, for a starting price of $20k. There will also be a more powerful non-hybrid Ecoboost 4-cylinder version with an optional towing package that ups the towing capacity from 2k to 4k lbs for a bit more coin. AWD is said to be an option only on the Ecoboost model. A fully loaded Maverick will run up in the mid $30k range. It will compete directly with the Honda Ridgeline and Hyundai Santa Cruz.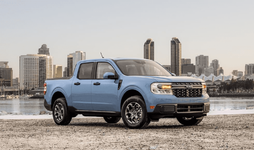 We'll have to wait less than a week to see the compact pickup truck fully unveiled.
www.roadandtrack.com
Judging by this video, it doesn't appear to be very "compact":
Last edited: