So I recently purchased an uncirculated Boss 302 key chain from eBay so I don't have to use mine from my owners kit.
I stumbled across another one on eBay from a different seller and I thought might be good to have a spare except the description on this one was for an issued version.
No specifics other than it was for a 2012. I didn't ask what car number as I didn't really care too much at the time. I thought I might try and possibly reunite it with the owner if they were a member here. Who knows.
Well I got the key chain in the mail yesterday and I was surprised to see that it belongs to the 2012 LS001. I was not expecting that.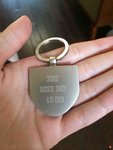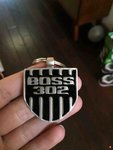 Sent from my iPad using Tapatalk HD