So the past 2 weekends I had the BOSS dyno'ed for the first time and second time...
The First time was on the Black Key, 93Oct. Gas, and I have been driving in heavy traffic and around town for a few months with no "PCM Reset".
The Results were less than pleasing: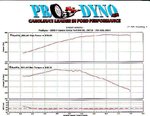 So, after some research and talking "Justin with the White 2012 BOSS" he told me how to reset the PCM and KAM. So I did that, and only drove the car on the Black to the show where we put in the Red Key and let it eat on the Dyno (Same tank of 93Oct. Gas).
Here is the results which I was much "Happier With"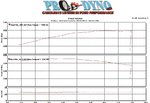 Better Numbers right? Where it should be basically right? But there is "New Problem" The car is spark-knocking BAD, at 5,000 RPM. In fact on the 2nd run of 3, he shut it down early because he was afraid the car would break it was knocking so bad (even though it still made 396HP.)
We talked about it and I said "Its under Warranty, if you going to break it, break it now so I can get it fixed under warranty" These engines shouldn't have any trouble until you get to 7,800 RPM roughly... and shouldn't be knocking that bad, so let her eat and we will see what happens.
He did, and it was knocking all the way from 5,000 to MAX, but it made 400.06HP on the last run.
He said with a "Tune" he can fix that knocking, cause I'm losing power with it doing that, but also damaging the engine. Plus he said without adding any other "Addons" besides a Tuner and Tune, I should be hitting 410HP. Add a CAI, 420, add Headers and H-Pipe, 450-460.
Now, obviously my first concern is the Spark-Knocking. Sure I have heard some of you say it happens, (especially the guys that race their cars) and I don't race or track my car, and rarely except for spirited driving from time to time do I ever rev above 5,000 RPM, which is where the spark-knocking showed up using the Red Key (No problems on the Black Key and same tank of Gas).
This leads me to believe that its the TracKey Tune itself. I talked to a Ford Engineer that was at the show and he was puzzled as to why it was doing that... He asked when I got my TracKey Program, and I told him Last July (2012), 2 days after I had the car. I asked if there were any updates to the TracKey, and he said "No, not that he is aware of".
So, While I certainly think Ford should fix this issue, either by adjusting the TracKey Tune (Which I know they will never do, especially just for my problem), they should at least either diagnose the engine, "Rebuild it if issues are found" or Replace it (which will instantly Kill any collectors or resale value because the numbers won't match). Or Allow me to extend my Warranty at no charge, or allow me to get my Dyno Guy to "Tune" the car to fix the Spark-Knocking and allow me to keep my warranty in tack.
To get the Tune done (plus a SCT Tuner) is roughly $600-$700 for a full Dyno Tune. But if I am going to do that, I might as well shoot for the moon and get a CAI, Kooks Long Tube Headers and H-Pipe and get it all done at once (roughly $2,100).
So what do you all think? What should I do? I am pursuing it with Ford, but like I said, I have a bad feeling that it won't get me much or very far. I know they are going to say "TracKey is on 8,000 other BOSS 302's out there and they are not having this issue, so its not the "TracKey Tune". Its a Bad Tank of Gas, or Bad Sensor, or something.. (well its the same tank of gas that nothing was wrong on with the Black Key), if its a bad sensor then that needs to be replaced and the car needs to be retested on the Dyno to make sure it fixes the problem (at Ford's expense, cause its $60 each time I run it).
Not worry about it and hope it stays together and if not hope it breaks before the warranty expires (2 years left basically)?
Car only has 4,090 miles on it.
Have it "Tuned" and lose the TracKey Tune and be done with it, hoping then that if any damage did occur prior to have it Dyno Tuned, that Ford will Honor the Warranty even with a "Custom Tune".
I have also put a video of the 2nd Dyno Run (with the Red Key) so you can all see and hear it... I can't really hear the Knocking, but I am on the Exhaust End and not in the cockpit where he can hear it (and see it on his readings).
http://www.youtube.com/watch?feature=player_detailpage&v=-kXzW9AVwPQ