I say 'baseline' because I have GT500 mufflers and k&n 63-2578 cai. At the cars and coffee last weekend an Evo owner referred me to Moore Automotive since I had not dynoed my car yet. My intent was to put the stock cai on and get a baseline. When I called this morning to set an appointment they were booked well into the rest of the month. But John said that he could squeeze me in this afternoon since they had a small window open. This is my first time putting my car on a dyno and it didnt even register to me that I couldve brought my stock airbox and switched it there. I was just too stoked I guess.
Here are the numbers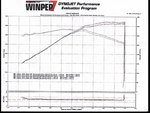 jpeg dyno
by
svtjocson
, on Flickr
silver key = 366hp/329ft-lbs
red trackey = 375hp/332ft-lbs
That equals to 441 crank hp/390ft-lbs
I havent payed attention to what other Boss' run stock but I'm very pleased with these numbers. I'm actually more impressed with the smooth delivery of the horsepower! All my parts have been ordered and on the way; Peterson oil breather kit from YellowBoss, Kooks 7/8 LTH, Kooks o/r quah h-pipe, Kooks side exhuast, Lethal Performance gen2 OTA pipes, Airaid cf PJ w/blue non-oiled filter and SCT 3xcal w/tunes from Shaun @ AED. When I go back to Moore Automotive with all the parts I'll put the stock airbox and get a real baseline.
Question is am I going to get a dyno run after every mod? This was the first time at a performance shop getting a dyno run. They charged me $90 for 3 pulls but gave me an extra one since I had two keys to test on. Do shops charge you from every dyno run even if theyre the ones installing all the parts for you and youre paying for labor?
Shout out to these shops for the help and parts!
http://www.hypermotiveperformance.com/
http://www.lethalperformance.com/
http://www.mooreautomotive.com/home.html