Just purchased my 2012 Boss 302 LS, and have already got the itch for some subtle mods. This car is so fantastic in stock form, I was very picky about what goes on it.
I love the stance of the Boss 302S race car, so I opted for Ford Racing's suspension package. Mainly because of the R&D that has went into the Boss 302S program. This consisted of Mono-tube Adjustable Tokico Dampners, Boss 302S FR Coil Springs, Camber Adj. Bolts, and the stronger GT500 Top Mounts/Pillow Mounts.
Also installed an 4130 Chromoly Boss 302R rear adjustable Pan-hard bar.
I took the car over to Pruetts Custom Alignment Shop, who specializes in corner balancing and lowered vehicles, for an alignment. The car feels even more amazing now. Plus, it got rid of the huge fender gap and it did not sacrifice any ride comfortability. I am very happy with the results. I have some new wheels, and Toyo R888's coming. Can't wait to get her out on the track. I have full detailed pics, of the install. If anyone is interested.
Before pics (Stock Suspension)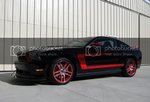 After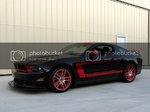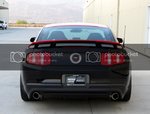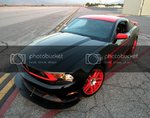 Some comparison photos
.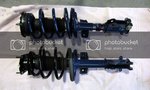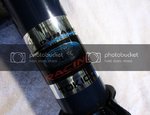 Stock Boss 302 Top Hats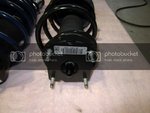 New GT500 Top Hats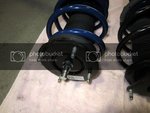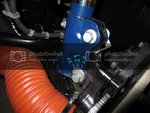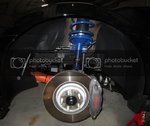 I also installed a Corsa Xtreme Axle-Back Exhaust, to get a little more sound and lose a little weight. Sounds great, and there is no "drone" with this exhaust at all
.