I just picked up this Boss last weekend with 135 miles on it and got a smoking deal. Some older gentleman bought the car Nov 1st and traded it on a Porsche Dec 14th. Crazy to me...Even has the track key activated.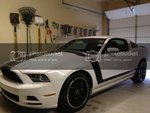 So being that this was a used car I was wondering if the baffles were in the side pipes. I'm assuming from this picture the baffles were taken out??
The car isn't crazy loud, maybe a bit of drone at certain RPM's, but not unbearable. Hell, my wife didn't even say anything about noise..