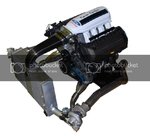 "Rumor has it that this will also be offered along with the current supercharged version of the 5.0 in the FRPP Cobra Jet Mustang, but to qualify a certain amount will need to be offered in a street version too.
NHRA competition rules for the stock classes Cobra Jet races in require parts like turbochargers to be derived from production components. Borg-Warner has supplied smaller, more efficient turbochargers based on the units used in the Focus ST for the Cobra Jet concept. Smaller than those found in most other drag racing applications, the turbine wheels are made from titanium aluminide that reduces the rotational inertia by 50 percent. Along with a shaft riding on low-friction ball bearings, the compressors can spin up to 150,000 rpm almost instantly."
Interesting to say the least...I guess time will tell.