This trip has been in the works for about 5 months. I was lucky to take delivery of my Boss the week before we left. This is our local car forum and was put on to raise money for the Franciscan Hospital for Children, I think the total raised was just over $10k.
First things first I removed my exhaust baffles and had the track key programed. next was clearbra met my buddy and fellow rally driver there in is newly delivered GT500.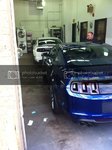 The car list for the rally:
Shelby GT500
B8 Audi S4
Boss 302-
CLK 63 Black Series-
Nissan 350z single GT35R trubo
Lotus Elise Supercharged
Audi R8 V10
Porsche cayman
Lotus Exige
Porsche 911 Turbo 996
bren tuning BMW 135i
porsche 911 turbo 993
850ci
SL55 AMG
BMW M6
Porsche 997 C4S
Departure was hosted by Aston Martin of New England in Waltham, MA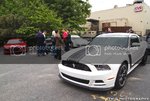 Day 1 was a fairly short drive to Willow Grove, PA
mostly uneventful drive we left Waltham, MA around 7pm. on the Merrit Parkway we encountered this damn truck who kept knocking cones over in my lane.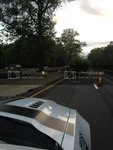 Day 2 Knoxville, TN (long drive).
to break up some of this drive we stopped at winery, Blenheim Vineyards owned by Dave Matthews. Beautiful place with great wine for pretty short money. Only problem they were not set up to ship to Massachusetts. Oh well.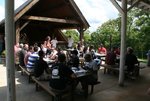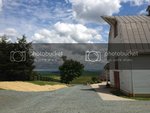 After some lunch we were back on the road for Knoxville. Finally arrived around 9pm just in time for some quick dinner and a night out (luckily no pictures of that).
Day 3 The Dragon
We arrived at the start of the Dragon around 10am on the TN side.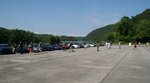 The Dragon itself is NO joke by far the craziet road I have ever seen. With this being a weekday traffic was pretty light. The Dragon did bite our group and 1 car was totaled both driver and passanger were 100% fine. Was a very scary moment though as this was the car right in front of me. Per the owner of the car it is not to be identified or pictures posted at this time.
On the NC side, we spent some time here waiting for a tow truck to drag the wrecked car out of the woods.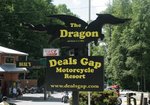 tree of shame
Next up was a road I thought was far better than the Dragon the Cherohala Skyway. This road was much better for the large Boss with long high speed sweepers it made for a much more fun driving experience. Far better vistas as well.
http://a2.sphotos.ak.fbcdn.net/hphotos-ak-ash4/459027_670232736697_1014987912_o.jpg[img]
We spent the night back in Johnson City, TN
Day 4 starting to head back north Williamsburg, VA
Nothing really great about this day had 100 miles or so on some pretty good roads in the morning but then was pretty much all highway to VA. Also speeding in VA is apparently a pretty big deal and radar detectors are illegal.
car line up in Williamsburg.
[img]http://sphotos.xx.fbcdn.net/hphotos-ash3/523588_10100562300956189_1736326739_n.jpg
Day 5 Atlantic City, NJ
Pretty good day. Got to drive across the Chesapeake bay bridge-tunnel it was pretty impressive. Lunch stop was directly on the beach the weather was perfect could have stayed there all day.
Finally arriving in Atlantic City around 8pm. Pretty lucky there are no pictures from Atlantic City it was a good night.
Day 6 Boston, MA
Long hung over drive home. My co-driver and I probably switched off driving every 2 hours.
Yes we had some issues but it was a great trip. The Boss performed flawlessly this trip really made me love this car.