Time for some real fun!
THIS EVENT IS FOR ANY BOSS 302 REGISTRY MEMBER or FRIENDS
!. You do not need to own a Boss 302, to be a part of this cruise. I will be having a few friends with 69 and 70 Mach 1's come out for the cruise and BBQ.
So please, invite anyone who would like to attend.
If you have any questions, or concerns.

Feel free to PM, Email or Call me

.
Eric
(951) 403-2012



EMAIL

: [email protected]
[size=14pt]

DATE OF EVENT:

SATURDAY - April 21st, 2012




TIME :

1:00 PM - 6:00 PM

1:30 PM - Go to the desk, to get your shirt.

3:00 PM - Food will be served

4:30 PM - Shirts will be distributed to guests.





Boss 302 Registry 2012 Knotts PRE-Show, Meet N Greet, BBQ & Beach Blvd. Cruise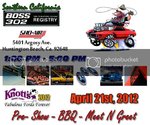 So far, I have 76 cars R.S.V.P'd (see list below).

New List:

18 - 1970 Boss 302 's

5 - 1969 Boss 302's

3 - 1969 Boss 429

1- 69 Mustang Coupe (Boss 429 Engine)

1 - 1970 Boss 429

5 - 1971 Boss 351's

1 - 66 Shelby

2 - 1965 Shelbys

1 - 1967 Shelby GT500

1- 1969 428 SCJ coupe

2 - 1968 Shelby GT500's

1 - 1967 Shelby GT350

1 - 1967 Mustang Coupe

1- 1970 Shelby GT500

1 - 1970 Shelby GT350

1- 70 1/2 Falcon

3 - 1969 Mach 1 (2 428 CJ cars)

4 - 1970 Mach 1 's

1 - 1971 429 SCJ

1- 1972 Grande Mustang

7 - 2012 Boss 302's

1- 2013 Grabber Blue Boss 302

7 - 2009-2012 GT500 Shelbys

2 - 1967-68 Mustang Fastbacks

1 - 2000 Cobra R

1 - 1963 427 R code Galaxie

1 - 1965 Mustang Conv.

1- 1969 Mustang Conv.

1- 1968 Shelby GT500KR